40 years after the advent of the mountain bike, there is an exciting new development in the fat tire world every rider should experience – the Specialized Turbo Levo pedal-assist mountain bike! Determined to put it to the test, Bicycle Sport Shop headed out to Reimers Ranch with the Turbo Levo FSR Expert 6Fattie.
The Turbo Levo closely resembles the latest in the Stumpjumper category from Specialized and features full suspension, 27.5 plus tires, and a Command Post IRcc dropper seat post. All of this coupled with a rechargeable lithium-ion battery to power a pedal-assist motor with Eco (power saving), Trail (moderate assistance), and Turbo (full power) modes. The mode can be controlled with buttons on the down tube of the bike, but for the tech savvy rider there is a Mission Control app that allows you to manage the power use and fully control the Turbo technology system.
Initially skeptical of a mountain e-bike, our time at Reimers quickly changed our minds. Climbs were achieved effortlessly, flats were traversed quickly, and we were able to hit more of the trail in less time with less effort due to the 530 watts of pedal assisted power. It simply multiplies the power you put to the pedals, but you still ride it just like you would a non-powered bike. That doesn't mean that skills aren't necessary. We recommend you have a basic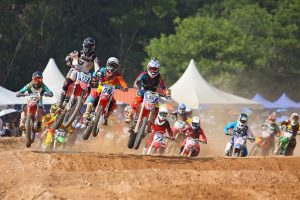 knowledge of how to ride a mountain bike and at least an intermediate skill level before hopping on a Levo, as the principles of shifting weight and properly handling the bike are important.
The Specialized Turbo Levo serves as a great option to help bridge the gap between ride partners with varying fitness and skill levels. If exploring a new trail, the Levo will help you cover more ground than you ever thought possible in one ride. It's also a great for those moments when you're pressed for time—like squeezing in a ride during your lunch break.
The Turbo Levo truly needs to be experienced first-hand. Bicycle Sport Shop has demos available for you to test ride. We're also scheduling demos at Reimers Ranch, so check our calendar for details.
It's important to note that the Levo and other pedal-assist mountain bikes are not legal to ride on many of our local trails. The only trail where they are allowed in the City of Austin is City Park, so don't take them on Barton Creek or out to Walnut Creek. Travis County has no such restrictions and you may ride them at Reimers Ranch and Pace Bend, as well as on the LCRA managed trail at Muleshoe Bend, all three of which are great trails for pedal-assist bikes. Just like any other trail that you ride, always be respectful of other users and follow IMBA's Rules of the Trail.
Check out the video below to see footage from our day at Reimers!